Yea, I haven't posted since last Friday. It's been a whirlwind of a week. I promise I'm trying to post more! Even if that feels like I'm lying. Oh well.
The weather's beautiful, so it's time for a bonfire/BBQ night!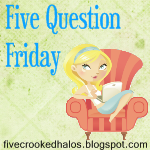 1.
What is one grammar issue you cannot let go without correction?
Ugh grammar. It's the worst thing about working in the trucking industry - half of the time, the people I work with didn't even graduate high school, much less know the proper form of English. But the things I hate the most? Spelling (you have a SPELL CHECKER), your/you're and they're/their/there, and commas/apostrophes. Put AWAY the comma shaker. KNOW that things aren't always possessive. ERG.
2.
What's your favorite thing about fall?
SWEATERS. I love them. I have WAY too many of them. But I wear them all!
3.
What's your favourite dish to take to a potluck?
It depends on the potluck. I should bring an appetizer/dip? Cheesy Bacon Ranch Dip. Bread? Garlic butter pinwheels. Side? Corn pudding or baked beans (depending on time). Vegetarians? Mac n cheese. Dessert? Anything in my list. No, seriously - I'm not kidding.
4.
When do you start Christmas (Holiday) shopping?
Black Friday. Or rather, the night of Thanksgiving. It's family tradition to share all the ads and make lists (for ourselves or for others). We then spread out and tackle stores together throughout the day - it's a ton of fun! I then buy for others throughout the rest of the season up until Christmas.
5.
Did you move homes a lot growing up?
Nope. My parents bought a "starter" house right before I was born (move in day happened when I was a month old!). They still live in that same house, 3 kids and 24+ years later. And I'll have to sell it one day, because they will never move. Needless to say, it's no longer a "starter" home, and they've definitely made a TON of upgrades.